SarahBeth's Middle Earth Gift Shop
Welcome to our little corner of Middle Earth, where you'll find unique and handmade gifts for even the most diehard of Tolkien fans. With enough imagination, you can see that we've tried to create special remembrances of our favorite parts of the stories. What you won't find here is anything ever used in The Hobbit or Lord of the Rings movies. No actual props are sold here, just a treasure horde of creative reminders. (And we promise that they do not smell "like troll".) Let us know if we can do anything special for you. We always enjoy custom orders and coming up with something new! After all, we aren't the only Tolkienites with imagination . . .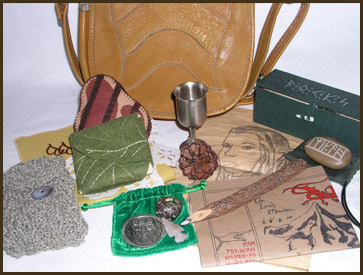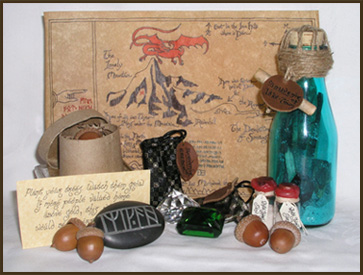 Tolkien's Middle Earth, and all the characters living there, provide endless inspiration for our handcrafting urges, including but not limited to all kinds of fun dolls, accessories and art. We began making themed souvenirs for ourselves back when the Lord of the Rings films were still being released in theaters. It all started with a small set of Minikin dolls and a lot of Elvish writing on handmade paper. We dabbled with a little of this and a little of that, and we bought what movie souvenirs were available, but our real passion for creating our own original-design Middle Earth memorabilia was fired by the release of the first movie of The Hobbit Trilogy in 2012.
It began with a rock. A small, 2-inch, black river rock. We saw Kili flash that rune stone across the screen, and . . . well . . . there was nothing for it but that Elizabeth needed to get serious with her hand-engraving tool. (Never despise meagre beginnings, no matter how small they seem.) One thing led to another, and we have now made so many Middle Earth themed "souvenirs" and accessories that they fill a section of this website on their own.
You can browse through the different categories by clicking the buttons in the right-hand column. Be sure to check back often, as we're always adding new items to the collection. Everything in our little gift shop is handmade, and many items are custom orders, so be sure to order in advance for holidays and special occassions. If you have any questions or ideas for new items, just send us an e-mail. We love to meet other Tolkien fans!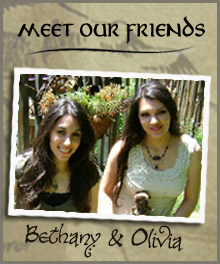 A lot of our ideas have come about because of friends who are also fans of Hobbiton and all things Tolkien. It's a lot of fun to use friends as "guinea pigs" for new ideas (even to the point of creating one-of-a-kind Christmas presents which are totally Erebor-themed)! In particular, our friends Bethany and Olivia are great inspirations. Like us, they are Christian sisters who live at home. (Unlike us, they live in Pennsylvania and are not twins.) Bethany and Livie are trained artists, as well as amazingly creative with a needle and thread (and just about anything else they put their hands to). You'll find some things throughout the shop that are made by them, too, because we just couldn't display all of our Middle Earth items without including their amazing work. (A few of the items shown here in the gift shop will actually ship from their home.)

As an example of how fun it can be to trade Hobbit-themed gifts with friends (and how Middle Earth Mania can affect even the simple things), take a look at the Christmas "wrapping" below. The packages on the left went out to Bethany and Olivia in real Middle Earth style. Different items were delivered by the "Erebor Post", the "Shire Mail", and even "by hand" from Lake-town. Of course, each package was inspected and marked by a very able Hobbit or Dwarf. And how exciting is it to find a 36-inch handmade Fili or Bilbo doll delivered via Mirkwood Delivery . . . all wrapped up in a cloth "spider web"?!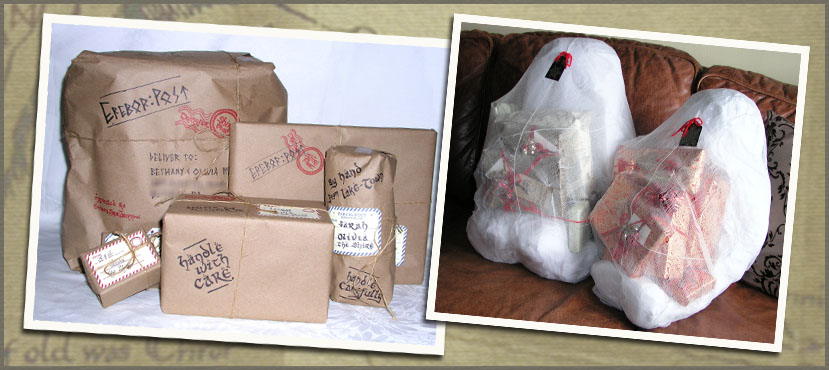 Have fun looking through the gift shop, and please feel free to contact us with ideas, custom orders or even comments. We love meeting other Middle Earth fans, be they Hobbit, Dwarf, Elf or Man! (Orcs, goblins, balrogs, and other evil creatures shall not pass.)