Handmade Middle Earth Character Dolls
Almost all of Tolkien's Middle Earth characters seem to lend themselves to the art of doll making. The possibilities are endless when it comes to recreating the intricate costumes in miniature, and it seems like Hobbits and Dwarves look cute when they are three inches or three feet tall! Whether you'd like an art doll, a doll for a diorama or just something to sit on your bed or shelf, have a look here. If you don't see the type of doll you're looking for, feel free to send an e-mail to us, because we're always ready to try something new. And remember, we don't keep an inventory of anything. All of our pieces are custom-made, so be sure to contact us before you actually need something.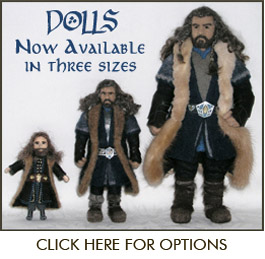 We receive a number of requests for custom-made dolls based on all sorts of Tolkien characters (from the books, too — they don't have to have appeared in the movies). We're currently offering the wool dolls in three different sizes: 4-inch, 6-inch and 9-inch. If you have a favorite character which you don't see here, just e-mail us. We can make almost any hero character of your choice (no orcs or bad guys, please). The 6-inch dolls are our newest venture, made in a non-poseable 1:12 scale. This means that you can incorporate them into houses and dioramas using standard-size dollhouse accessories and furniture. To have a look at the different dolls and options, just click on the picture.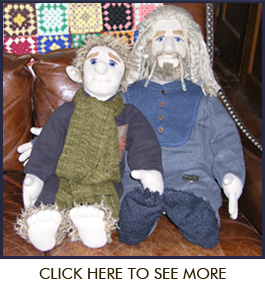 When it comes to a large, cuddly doll to sit on your bed or sofa, nothing can beat these amazing soft-bodied dolls made by Olivia. She has designed her own patterns for a 30-inch Hobbit and a 36-inch Dwarf, both just screaming to be accessorized with their own special costumes, boots and other cool "stuff". You can see her Bilbo, Thorin and Fili dolls (from our own collections) by clicking on their picture. (Kili is coming soon . . . hopefully.) You'll also get to see the clothes we've adapted to them, as well as their "backpacks" filled with unique accessories, including everything from pine cones from the Misty Mountains to a complete Erebor-Quest Travel Journal as "written" by Thorin Oakenshield himself. Of course, you'll have to take your imagination in with you.

Bilbo Baggins: Small Cloth Doll
------------------------------------






Click on the photos above to see at full size.
Not Available
This is a completely hand-sewn cloth doll made in the primitive style often shown in the Peter Jackson films. At just over 6-inches tall, this little Bilbo Baggins sports a hand-sewn costume made to look like his travelling outfit (as seen in the first Hobbit film). His hair is made of 100% wool yarn, and his clothes are a combination of corduroy, wool felt and cotton. Bilbo's face is hand-embroidered.