Middle Earth Documents & Art
This is the part of our gift shop where you'll find all sorts of Middle Earth-themed art and handwritten documents. We're always coming up with new ideas, so be sure to check back often for new additions. Some of these items are ready to ship, some custom orders. No actual props from any films are sold here, just a treasure horde of creative reminders. (And we promise that they do not smell "like troll".) Let us know if we can do anything special for you. We always enjoy custom orders and coming up with something new!
Thorin's Map: Handdrawn Parchment Copy
------------------------------------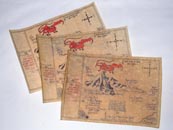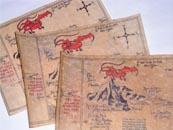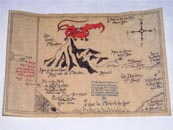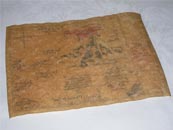 Click on the photos above to see full-size pictures.
$35.00 + Shipping
These individually ink-drawn copies of Thorin's map (as seen in J.R.R. Tolkien's "The Hobbit" book and films) are drawn on a fabulous 10x7" aged-to-look-like-antique-parchment paper. Each map is completely handdrawn by Sarah, so no two copies are exactly alike. As with all handmade items, there will always be slight differences from the maps shown in the photos.
Middle Earth Heroes: Handpainted Art Cards
------------------------------------

These individually hand-illustrated and inked art cards are great fun at the easily collectible size of 2-1/2x3-1/2". Each drawing is made in red col-erase pencil, then ink is brushed on top, which gives a nice two-tone look to these fun pieces of art. Bethany and Olivia enjoy making these cards with a variety of characters on them, so don't worry if you'd like to request someone other than Thorin and Bilbo (they even do Star Wars figures). Each card is a one-of-a-kind original (not copies) and can include single or multiple characters. PLEASE ALLOW UP TO TWO WEEKS FOR THE MAKING OF YOUR CARD.







Click on the photos above to see at full size.
Art Card with One Middle Earth Character: $7.00 + Shipping
Art Card with Two Middle Earth Characters: $10.00 + Shipping
Middle Earth Hero Weapons: Custom Original Pencil Drawings
------------------------------------




Click on the photos above to see full-size pictures.
Custom Orders Available, $75.00 and up
Elizabeth loves to create pencil drawings of Middle Earth weapons, particularly swords. She really enjoyed drawing Orcrist and Thorin's Dwarf Sword and looks forward to adding some more weapons to this section in the near future. Her first venture into this form of art was a montage drawing of Narsil, Arwen's Evenstar, the Elven Leaf pin and the Tree of Gondor. To frame it, she decided on a special mat, on which she wrote Tolkien's poem about the missing King of Gondor. As a final touch, Dad made a beautiful wooden frame, and Elizabeth wood-burnt the Tree of Gondor on the top. Just send us an e-mail with the weapon of your choice, and we'll send a price and timeframe.
Middle Earth Heroes: Custom Original Pencil Portraits & Prints
------------------------------------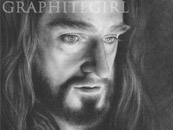 Click on the photos above to see at full size.
8x10" Art Print (Thorin, Boromir or Aragorn Portraits): $25.00 + Shipping
11x14" Art Print (Thorin, Boromir or Aragorn Portraits): $30.00 + Shipping
Custom Original Pencil Portraits: $100.00-250.00 + Shipping
Bethany has an amazing gift for pencil portraits, and she particularly enjoys drawing Middle Earth Heroes (although, she might even enjoy drawing their horses more). Professionally-printed Art Prints are available of the first three portraits shown above. Bethany is also available to draw custom portraits of any Middle Earth hero characters (no orcs or bad guys, please), just send an e-mail to us to discuss a custom drawing.
Thorin's Travel Journal: Handwritten and Illustrated Leather Book
------------------------------------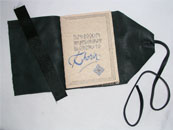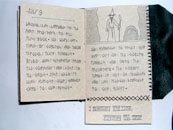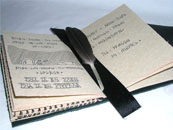 Click on the photos above to see full-size pictures.
Custom Order Available, $450.00 + Shipping
Thorin's journal is handmade from dark leather for the cover, with handwritten inner pages of parchment-coloured paper. The entries are written in English but in a font which uses Dwarven runes resembling English letters on pages which are approximately 5-1/2x4". Thorin's tale is illustrated throughout, and the book includes a few Dwarvish notes and some handsewn page extensions. Of course, since it is very unlikely that Thorin would have continued with his journal after having been touched by any dragon sickness, this journal ends when Bilbo has entered the mountain and the Dragon wakes up. PLEASE ALLOW EIGHT WEEKS FOR US TO MAKE YOUR JOURNAL.
Custom Artwork by Olivia & Bethany (Paint, Digital or Combo Art)
------------------------------------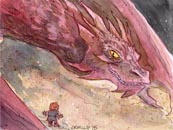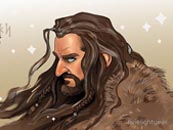 Click on the photos above to see full-size pictures.
Custom Orders Available
Olivia and Bethany are both great artists and share our obsession with Tolkien's Middle Earth. They have created a variety of artwork (whether painted by hand, digitally created or a combination of both) spotlighting the delightful characters and scenes as portrayed in the books and films of both "The Hobbit" and "Lord of the Rings". If you'd like to discuss a custom order for artwork in the style of any shown above, just send an e-mail to us, and we'll put you in touch with these two great artists.
Handwritten Elvish Book
------------------------------------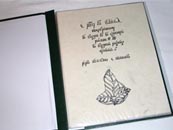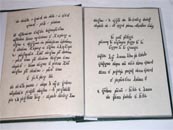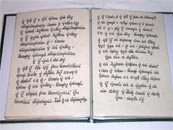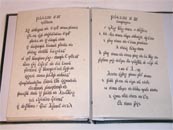 Click on the photos above to see at full size.
Out of Stock
This 8-1/2x11" scrapbook is filled with handmade paper pages which have been handwritten in Elvish Tengwar. Pages include all of the Elvish dialogue from the "Lord of the Rings" films, Tolkien's poem "Namarie", and Psalm 23 written in both Quenya and Sindarin.