Handmade Pin-Trading Accessories

We are so excited about this clever way to give Disney Trading Pins in a special Gift Box! It would also make a great Display Case for your starter set or a fun way to carry your pins when trading. Lots of uses for this special Upscaled creation, and they'll make you the hit at Christmas or Birthday time! For all of us who grew up in the 1990s (or have just loved Disney movies since then), these vintage Disney clamshell cases seemed like the perfect thing to combine with the fun of pin trading and collecting.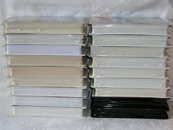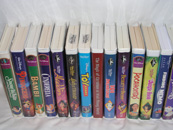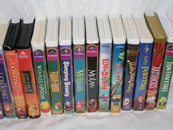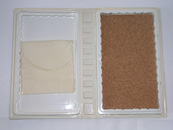 Click on the photos above to see full-size pictures.
You will receive:
One Upscaled (used) Disney VHS Movie Clamshell Case with Foam-backed Cork Panel to Hold Your Pins (your choice of Movie Cases)
One loose (unattached) Flannel Pouch for Storing your Pinbacks which Fits Inside (as shown in Photos) or Can be Used Elsewhere

We have shown pins and pinbacks in a couple of photos, just for those of you who like to see what it could look like. These pins and pinbacks are not included. Quite often, though, we do have extra trading pins, in case you're interested in purchasing a ready-made set — just ask us via e-mail.

We took nice photos of every available box, but I'm only including basic photos here and a list of individual titles. Just e-mail us for availability and photos of the actual box you will receive. These ARE vintage items which may have a dinged corner or discoloration of the plastic case itself. That's why we'll send photos of every side to you before you purchase your pin case. No cracks or anything really bad, and we really wanted to use the cases that we all remember from when we were young. This is such a nice bit of nostalgia! (Sorry, but we don't allow returns, so choose carefully.) Your pin box will ship, via USPS Priority Mail, from our non-smoking and cat-friendly home. Once you're ready to purchase a pin case, we'll send a PayPal invoice to you via e-mail.
Disney Titles/Cases Available:
101 Dalmations
Aladdin
The Aristocats
Bambi
Beauty and the Beast
Cinderella
Finding Nemo
Fun and Fancy Free
The Jungle Book
Lady and the Tramp
Lilo and Stitch
The Lion King (Classic Cover)
The Lion King Special Edition
Lion King II: Simba's Pride
The Little Mermaid
The Magic of Christmas
Many Adventures of Winnie the Pooh
Mulan
Peter Pan
Pinocchio
Pocahontas
Robin Hood
Sleeping Beauty
Snow White and the Seven Dwarves
Toy Story