Special Pets: Wool Cats

What a great way to memorialize someone's special cat. These cute little cats stand about 5" tall and are entirely handstitched by Elizabeth from wool-rayon felt. Every little detail is added and sewn by hand, and she even embroiders the name of the cat on the bottom of the piece. Depending on the personality of the kitty, some of them are even holding special toys in their mouths.

In the last ten years, we've had 16 different rescue cats — all with their own special story and personality. Whether we've had them for five months or ten years, it's always hard to lose a special pet, so we're always keeping little reminders . . . saving a little fluffy hair or a special toy, etc. These little felt cats came about when my special little girl cat, Beatrice, passed away quite suddenly. I was heartbroken, so Elizabeth came up with this pattern and made a little black Beatrice out of felt — complete with one of her own special green "mousies" in her mouth (the tale having been made from the fabric of Beatrice's real toy). Since then, Elizabeth has made a few more of our kitties out of felt like this, as well as some for friends who lost their own special pets and wanted a pet memorial to "sit on the mantle".
Naturally, these little felt kitties are only made as custom orders. Photos below show each one with a photograph of the real cat model. This will give you an idea of the similarity achievable between the real photo and the 5" felt version of your special friend. If you'd like to order a kitty like this, just send an e-mail with your cat's photo (front and back of your pet, at least) and any special details you'd like to have included (e.g., a bushy tail, pink paw pads, a toy in its mouth or anything that would make the finished piece seem more special to you). Also, at the same time, please include the name that you would like embroidered on the bottom of your felt kitty. The price range shown in the column at right reflects these details and the difficulty level (e.g., multi-colored cats cost more). As an example, Oliver (being a very stripedy orange fellow) is quite a bit more challenging than Beatrice, who is solid-colored. We'll discuss the details with you via e-mail, once we've received the necessary info from you.
Oliver
------------------------------------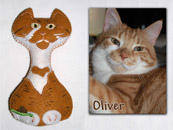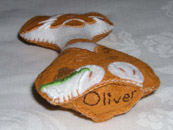 Click on the photos above to see full-size pictures.
Oliver is a very handsome fellow and covered in stripes from the top of his head to the tip of his beautiful tail. This made for a more complicated project when creating this miniature felt cat. Oliver also has a very special wet food bowl (a vintage white glass dish with a lime-green border) which he eats from every day. Since that's such a special thing for him, Elizabeth decided to put a felt version of his bowl right at his feet. As a special addition, this felt Oliver's tail is actually stuffed with the real Oliver's fur!
Beatrice
------------------------------------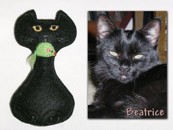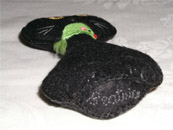 Click on the photos above to see full-size pictures.
Beatrice was an 8-pound, solid black kitty with hooded golden-yellow eyes. Her very favorite toy was a bright green fur mousie, and she would vanquish it, carry it around and then drop it as a present at my feet. There was nothing cuter than the sight of her coming near you with that mouse in her mouth. So, when Elizabeth made this little felt Bee, she put a little mouse in her mouth —, actually using some of the real mousie's fluff for the little tail!
Samwise
------------------------------------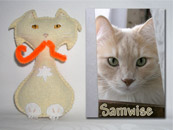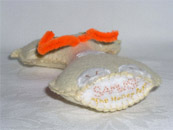 Click on the photos above to see full-size pictures.
This is one of the few Wool Cats made by Elizabeth before the cat passed away. Sammy is the cutest, sweetest, fluffiest honey of a kitty that you could ever meet. (Of course, that might not be a totally unbiased statement, since he is my special fella!) He's a very large and fluffy, buff-colored, long-haired cat who loves bubble wrap and pipecleaners. This little felt kitty is actually holding a piece of Sammy's real pipecleaner in its mouth! Sammy also has very furry feet, so notice the extra threads on his toes to imply the fur.
George the Kitten
------------------------------------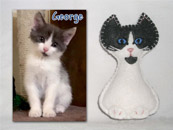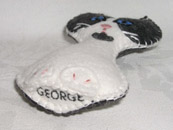 Click on the photos above to see full-size pictures.
George was an adorable little six-week-old kitten with grey spots and blue eyes. Since he was such a baby, Elizabeth made him at the smaller size of just 3-3/4" tall. This looks very nice alongside one of the full-size felt cats. Regardless of the size of the cat, the pricing structure is the same.
Frodo
------------------------------------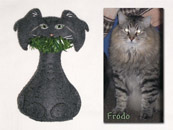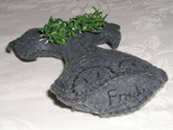 Click on the photos above to see full-size pictures.
Frodo was a beautiful long-haired cat in various shades of grey. He was very fluffy and prone to mats, so Elizabeth even included some french-knot-mats on his back! He also loved everything about Christmas decorating — particularly the garland. It was so very tasty! So, Elizabeth actually took a piece of the same type of garland that he loved to eat and put it in this little felt Frodo's mouth.
Max & Max
------------------------------------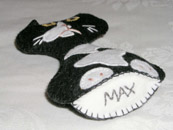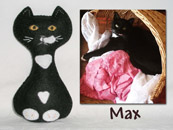 Click on the photos above to see full-size pictures.
It seems that "Max" makes a perfect name for black-and-white Tuxedo cats, because we have one and so does Elizabeth's friend. That's our Max in the first row of photos, and that's Jennie's Max in the second row. All in all, Tuxedo cats really lend themselves to these felt cats — but they're very difficult to photograph. There's a lot more detail in the stitching and piecing on these little fellows than shows up in the pictures.