Dan Duryea: Heel with a Heart by Mike Peros
Written and Posted by Sarah (Wednesday, November 9, 2016)
After years of waiting, the Dan Duryea fan's dream is now in print! It's a full-blown biography, careerography and filmography — and all in one very pleasing volume! An added bonus (at least to this happy reader!) is the center section filled with great photos. DDC was very happy to help supply many of the pictures, and I have to say that the finished product was well worth the wait.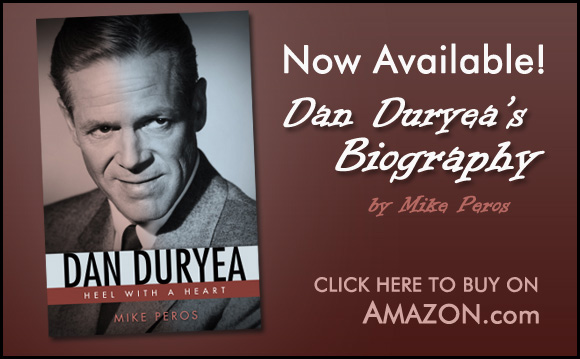 Dan Duryea's life was a bit of the American dream come true. He was a middle-class American boy who made it famous in Hollywood, was a devoted family man with a loving wife and two sons, served his community and managed to stay out of the gossip columns or scandal sheets all of his life. This biography stays true to this story, so if you're looking for dirt — well, you better just go to the fiction aisle, because you won't find it in the Duryea story. This fact is well illustrated by the author in the very first chapter: '. . . difficult times didn't occur during Dan's childhood — as a matter of fact, Dan's early years were fairly normal, largely devoid of any earthshattering events or emotional scars (great for Dan, not so good for a prospective biographer).' Since there are no hidden scandals in the life of our favorite actor, Mr. Peros' biography is a fabulous blend of Dan's private life and public career. As the biography moves forward, each film fits right into the story and includes a nice synopsis of the plot and Dan's part in it. Even his work in television is included, along with highlights on some different shows.
I've been disappointed to see this book reviewed (a number of times) as "just another career spotlight" that doesn't make Dan seem very interesting. Well, this is exactly the type of biography that the world needs about Mr. Duryea! His life was his family and his work, so his career is the interesting part of his life. You don't need dirt and scandal to make an actor interesting.
The book itself is a beautiful thing! This is a quality hardback with a beautiful dust jacket. Photos in the book are printed on shiny stock in a large center section. They come from DDC, the author's collection and the Duryea family and feature a nice variety of professional and candid shots. A lovely filmography and Television list are included at the back of the book, as well as some interesting notes about different films and shows. The crowning touch, though, is the fabulous index! You can simply look-up the title or event that interests you and turn right to it.
Mr. Peros does an amazing job of presenting facts from an unprejudiced viewpoint, and I appreciated his opinions on Dan's various roles and films (particularly as we agreed on almost all of the "important" ones!). He is obviously a real admirer of Dan's talent, even when the film was less than worthy of them. All in all, I would recommend this as the #1 book for any true Duryea fan.