Who are Sarah and Beth, and why are they online?
That's Elizabeth on the left, so I'll bet you can figure out which one is me. We've outgrown our blogs and need more space to organize our thoughts and varied interests. Our closet shelves are full. There is no more room in the attic or the closets, on the walls or in the storage trunks. In fact, there is no more room for storage trunks in our house. Online really seemed like the only frontier left for our expansion. Besides which, you don't have to dust your online storage space. Works for us.

We love everything about wool. Sewing it. Felting it. Even just staring at it. As long as it's wool. Even our cats agree. Wool is pet-friendly, and that appeals to all of us. You'll find a lot of things on our site that have to do with wool (not to mention cats and Middle Earth), which is certainly a passion at our house. Look around, and be sure to drop by again!

Little Kumquat
Sarah chronicles the highlights and mundane moments of her daily life. You'll find everything from family fun to wool felting. Mostly, it has to do with her amazing cat, Samwise. Perfect for family and friends who want to stay in touch.

Forever Elizabeth
Elizabeth shares her many interests and collections in her own inimitable style. As eclectic as the writer, this blog has something for everyone.

Peppermint Toes
The ongoing story of our sixteen rescue cats and kittens. Very feline intensive, but full of fun and great photos. Perfect for everyone who enjoys a good cat story.

I know how to get along with humble means, and I also know how to live in prosperity; in any and every circumstance I have learned the secret of being filled and going hungry, both of having abundance and suffering needs. I can do all things through Him who strengthens me. And my God shall supply all your needs according to His riches in glory in Christ Jesus.
Philippians 4:12-13, 19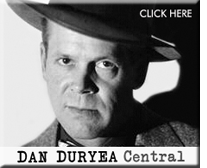 Dan Duryea Central: An Online Tribute to The Nicest Heel in Hollywood
Dan Duryea was recognized as one of the top tough guys in Hollywood throughout the 1940s and 1950s. He played it all, from gangsters, blackmailers and crime ring leaders to cowboy bandits. He tried, periodically throughout his career, to lighten his on-screen image by appearing in lighter (more sympathetic) roles, but the audiences weren't as keen to see him as a nice guy. Despite his celluloid image, Dan D. was a quiet, law-abiding family man. This section of our website (originally online as the Dan Duryea Central Blog) is for everyone who appreciates the talent of this amazing actor on film or television. You'll find newspaper clippings, interviews, photos and more.
We have a lot of Dan Duryea stuff to post, too, so be sure to keep checking back!